derevko-child.livejournal.com posting in

oliviawilliams
How we met: Olivia Williams & Diarmuid Kelley
Adam Jacques | 15 December 2013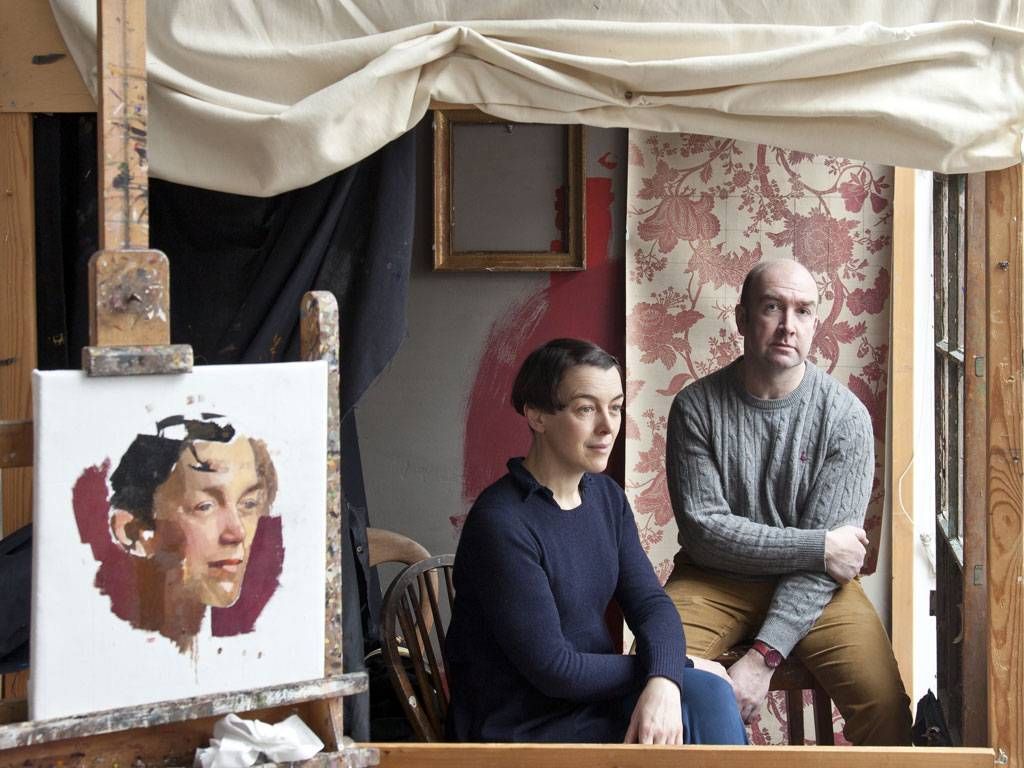 'Our sessions became a bit like therapy'
Olivia Williams, 45
Williams studied drama at Bristol Old Vic Theatre School, and began her acting career touring with the Royal Shakespeare Company before making her film debut in Kevin Costner's 1997 film 'The Postman'. She has since starred in a slew of big-budget productions including 'The Sixth Sense'. She lives in London with her husband, the actor playwright Rhashan Stone, and two children.
It was a portrait by Diarmuid which stopped me in my tracks. I was staying with some friends and I saw this portrait of a soldier above the fireplace in their drawing-room. The subject was wearing a military collar and army jacket and it was incredibly moving and evocative, with an exquisitely finished face. I asked who'd painted it and they told me it was by a newly graduated arts student. I wanted to have it so I rang him up and pursued him. I kept saying, "I want one like that." He quite rightly replied, "I'm an artist, not a photocopier."
It turned out that Diarmuid has trouble finding subjects to paint, so we did an amicable deal: if I sat for him, I could have a picture from him to take home and keep. I didn't want a portrait of myself, though, not least because it smacks of vanity to be an actor and [commission] a picture of yourself.
I was getting married, so a good way to transfer that vanity was to have him also paint my fiancé, and give the painting to my husband as a wedding present. I started sitting for him [for his own work] and it turned out to be one of the seminal moments in my life: my fiancé and I broke up three weeks before the wedding. Rather than pussy-foot around the issue, I just called Diarmuid and said, "OK, you're not painting my fiancé any more."
I remember spending hours in the studio with him, being very tired emotionally, so whenever he tried to paint my eyes I kept falling asleep. He ended up having the eyes closed in the portrait: he never got cross, but I could tell he was getting frustrated.
It's been a very gradual process getting to know Diarmuid. I am extremely nosey and ask lots of questions about his background. But he's quite a reticent person, so it took a few years of sittings and meeting up for dinners before I realised that he's not as shy and retiring as I thought: he does have a high sense of injustice about the world, so now we sit and whinge about things we hate.
He's extremely loyal and has been to a number of my premieres and theatrical performances over the years. He came to see me in Rushmore, and The Changeling, and suddenly 15 years have passed.
Now I'm coming up to my 10th wedding anniversary with my husband, who Diarmuid has never painted, so he is doing that now; he has painted some pretty monumental rites of passage in my life and he's made me look at faces in a whole different way.
Diarmuid Kelley, 42
Since graduating from Newcastle University with a degree in fine art, Kelley's work has appeared in exhibitions and museums around the world, including the National Portrait Gallery. He is a regular painter of his friend and muse Olivia Williams. He lives in London
Some friends of Olivia bought my first ever painting. I had a degree show after graduating from Newcastle University, in 1995, which was where some friends of hers – lecturers from the Cambridge English department, where she had studied – came and bought it. By the time Olivia saw it in their drawing-room a few years later, I'd moved into a studio in London. She'd just done a soap commercial and it had paid better than any RSC production she'd ever done, so she got my details from her friends and rang me. I went up to see her in Camden [north London] and we discussed doing a painting. She was this glamorous, slightly older woman and it was intimidating.
She wanted me to do a portrait of her then-fiancé. I'd just started working out how to paint him when it turned out they'd broken up. She was very brave about it. I thought I'd lost my commission, but she loved my work and I ended up painting her anyway, looking very sad. It's a very intimate thing to spend hours in each other's company, listening to the radio, chatting, with very few distractions. She has a lovely nose, and as a painter it's one of the first things you notice: she has delicate features.
This was all just before her big break with Kevin Costner's film [The Postman]. It was a terrible film but it got her to Hollywood. After that, whenever she had spare time in between films we'd try to start another painting and talk about what she was up to.
She got really upset when Barry Norman said something nasty about her bottom when reviewing The Postman. Our sessions became a bit like therapy, meandering into things she wouldn't discuss elsewhere. Over the years there have been a lot of paintings of her that I've started, but couldn't finish, so at home she's got a whole collection of painting fragments – she won't let me throw them away.
I love how she doesn't wear expensive clothes and how she cycles about everywhere in London: she's very ordinary with no hang-ups – none of that "Do you know who I am?"
It's interesting to watch people change over the years. Olivia's always had this authoritative presence – now she's in her forties it fits her.
Now I'm painting her husband too, there's this weird competitiveness that's developed between them over who's the best sitter. He's got a more quiet, relaxed temperament while, because Olivia is so energetic, she struggles. What has she given me most? I'm quite shy. My worst fear is that I frighten people away as they think I'm some grumpy old bastard. So it's deeply flattering she's still talking to me. 1
The portrait of Williams is part of Kelley's solo show at the Offer Waterman Gallery, in January 2014, waterman.co.uk
source